The best gatherings need pizza to become perfect!
Are your friends coming over for a night in and you're wondering what to eat?
Well, search no more!! Just pick up the phone and order from Pizza Ghost, the best pizza delivery in Dubai.It's just what you'll need to have the best times at any party or gathering. More than 40% of the population eat pizza once a week, which makes it the go-to food for any craving.
The importance of pizza delivery in Dubai
It's no surprise that the first food delivery service in the world was in Naples, Italy and yes- it was a pizza!
It's in our human nature to find convenience and ease in our lifestyle and the more we find ways, the more we push the limits for it. And with the technology we have nowadays, we tend to find more creative ways to facilitate our everyday life. That's why the market has become swamped with delivery apps and services, all trying to provide the best service they could offer, especially the best pizza delivery service in Dubai.
With the recent Covid-19 special procedures during the lockdown, most food outlets have stepped up in their services, imaging new and better ways for food delivery. More practical choices and solutions have been implemented to make sure food is delivered within a time margin to keep it hot, tasty, not soggy, fresh and served as it would've been in a restaurant.
Best pizza delivery in Dubai
The perfect combination of speed, quality and service makes the choice easier for any customer to know which is the best pizza delivery in Dubai.People living there have an active social life of gatherings, be it a birthday party, a picnic, a kid's party, a work event or just a regular friends' gathering.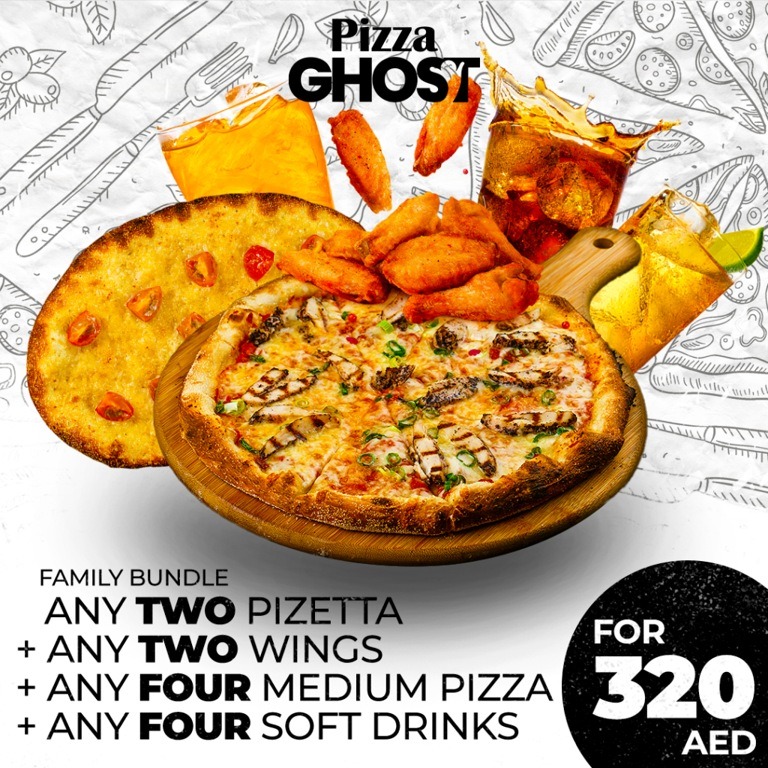 For the best pizza delivery in Dubai, just choose Pizza Ghost!
Pizza Ghost is the top restaurant for pizza delivery in Dubai for many reasons. It has made it a priority to perfect its delivery services to make sure the most delicious pizza is available to everyone in Dubai.
The 3 methods to order are easy and accessible to everyone!
You could just pick up the phone and call +971565462427. You'll get the most pleasant customer service and make sure your order is clear and your questions are answered.
The website pizzaghost.com is user-friendly to make the orders placed easy and accessible to everyone. Get clear "order online" buttons, browse through all sections of the menu, get to customize your pizza any way you want, see the total and have the best pizza delivery in Dubai.
It's also simple to order using the app for a quick and fast delivery experience.
Enjoy browsing through the menu online and get a full food experience for the 11 types of customized pizza, to pizzetta, wings, starters, fries, salads, pasta and dessert.
Make sure you benefit from the variety of offers you find on the website to indulge in your top pizza craving!